Regular price
Sale price
$19.99 USD
Unit price
per
Sale
Sold out
Elevate Your Shooting Experience with the Combat Textiles Cordura Grip for FN 509C:

When it comes to precision shooting and self-defense, every detail matters. The Combat Textiles Cordura Grip for FN 509C is designed to provide you with an edge, enhancing your grip and control over your firearm. Whether you're a seasoned professional or a responsible gun owner, this grip upgrade delivers a blend of comfort, durability, and performance that's truly unparalleled.

Crafted with meticulous attention to detail, the Cordura Grip is engineered to perfectly fit the contours of your FN 509C. This precision fit ensures that you experience a seamless integration between your hand and the firearm. The result? Enhanced accuracy, quicker target acquisition, and a natural shooting stance that boosts your overall shooting prowess.

The secret to the Combat Textiles Cordura Grip's effectiveness lies in its choice of material. Cordura, known for its ruggedness and exceptional resistance to wear and tear, is the backbone of this grip. This means you can confidently put your FN 509C through its paces, from demanding training sessions to adverse weather conditions, knowing that your grip is up to the task.

But it's not just about durability – the Cordura Grip takes your shooting comfort to a whole new level. The textured surface of the grip ensures that your hand stays firmly in place, even during rapid-fire sequences. The added stability contributes to reduced recoil and faster follow-up shots, allowing you to maintain tight groupings and ultimately improving your shooting performance.

Installation is a breeze, so you can spend less time tinkering and more time at the range. Simply slide on the Combat Textiles Cordura Grip, secure it in place, and you're ready to experience a new level of firearm control. Plus, the grip's sleek design adds a touch of modern aesthetics to your FN 509C, ensuring that you not only perform better but also look the part.

Whether you're a competitive shooter striving for the podium or someone who values personal protection, the Combat Textiles Cordura Grip for FN 509C is the upgrade you've been waiting for. Elevate your shooting experience, maximize your control, and achieve the accuracy you've always aimed for – all with a grip that's engineered for excellence.
Share
View full details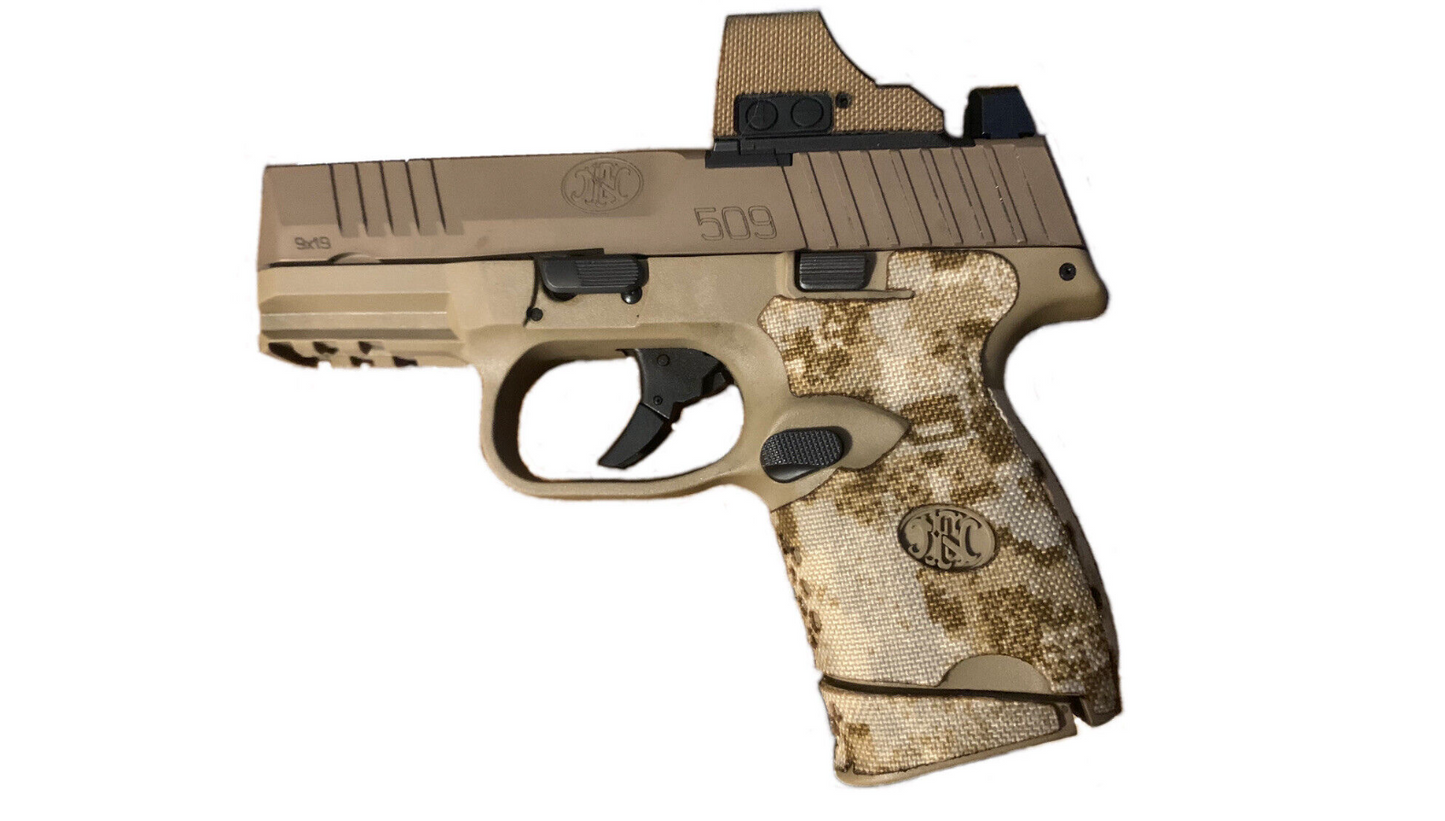 Collapsible content
DETAILS

Materials : Cordura 1000D, 3M 300LSE adhesive

Made in the USA

100% Satisfaction Guarantee
TIPS

Wipe down area prior to applying adhesive

Apply slowly and evenly

Removal is simple and will not leave a permanent mark

Our material is durable and meant to last
SHIPPING

Flat rate of $1.99 per order

Free Shipping with orders over $35.